I'll use this page for whatever comes to mind: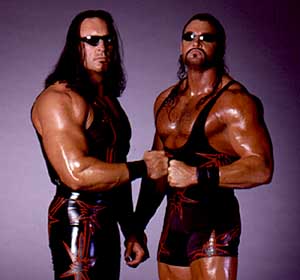 BRYAN CLARK
Made his professional debut in 1991 winning the Smoky Mountain Wrestling Beat the Champ TV Title as the NightStalker. Signed with WWF as Adam Bomb. Later signed with WCW as Wrath. Suffered an ACL injury on April 22, 1999 during a backstage shootfight with Jerry Flynn. Underwent surgery to repair his knee on April 29, 1999. Returned to WCW as one half of the Tag Team Kronic.



BRYAN ADAMS
Made his pro debut in 1979 in Oregon winning the Oregon Wrestling Federation Tag Team Title. In the Northwest Wrestling Association won the Tage Title 4 times. Also won the WWF Tag Team Title. Alliances were with Demolition, Legion of Doom, Nation of Domination, Disciples of Apocalypse, NWO and now as one half of the Tag Team Kronic.



At a Glance

Bryan Clark
Real Name:
Emmit Bryan Clark,Jr
Date of Birth:
March 14, 1964
Place of Birth:
Harrisburg, Pa
Height/weight:
6'6' 292 lbs.
First Pro Match:
1991
Astrological Sign:
Pisces
Marital Status:
Unfortunately - Yes.

Bryan Adams
Real Name:
Bryan Adams

Date of Birth:
April 14, 1964
Place of Birth:
Kona,Hawaii
Height/weight:
6'6" 322 lbs.
First Pro Match:
1979
Astrological Sign:
Aries
Marital Status:
Married